On 5 June 2011, I rode 100 miles around Lake Tahoe for the America's Most Beautiful Bike Ride event.  This event was in support of The Leukemia & Lymphoma Society (LLS) as part of Team In Training.  This group gets people to train, as a team, for an endurance event while raising money to support LLS's mission to find a cure for blood cancers.  I completed this ride in honor of three people close to me who are survivors of one of these blood cancers.
My fiancé mentioned Team In Training to me and told me about this event that she'd raised money for a few years back but wasn't able to go.  This year, we both participated.  For me, it was my first full century ride.  Prior to this event, the furthest I'd ridden was about 70 miles, and that was when I was about 15.  We trained with our team every weekend (and a few times during the week) from the end of February until late in May, progressively riding further each time.  By the end of this training, I was getting pretty adept at climbing hills with energy in reserve and coving long distances.  Unless you do a lot of digging, most people don't realize how important fueling your body is for endurance events like distance cycling.  To keep up my energy and prevent cramping, I had to consume electrolyte replacement drinks and energy bars at least once every 15-20 miles.
Unlike the rest of the team, we decided to make a vacation out of the trip, and we drove from central Oklahoma out to Lake Tahoe.  It was my first trip out west, and it was simply breathtaking to see the incredible scenery change as we drove.  Stops along the way were in Amarillo, Albuquerque, the Hoover Dam, Las Vegas, Mono Lake (Yosemite), and Lake Tahoe.
Unfortunately for us riders, the weather was about as bad as you'd like to see and still be capable of finishing.  We started the ride with light to moderate rain and about 45 F temperatures.  To say it was uncomfortable would be putting it mildly.
Most veterans of TNT events proclaimed that as bad as the weather was, it still beat chemotherapy…I'd tend to agree.  This thought combined with many people on the side of the road cheering us on made swimming pools in my shoes not only tolerable…but maybe even fun.  Climbing roughly 1000 ft and descending the same in the rain was a bit scary with twisting passes and slick roads.  For safety, I rode the brakes the whole way down topping out around 37 mph.  After our first stop around the 50 mile mark, the rain stopped and things started drying out.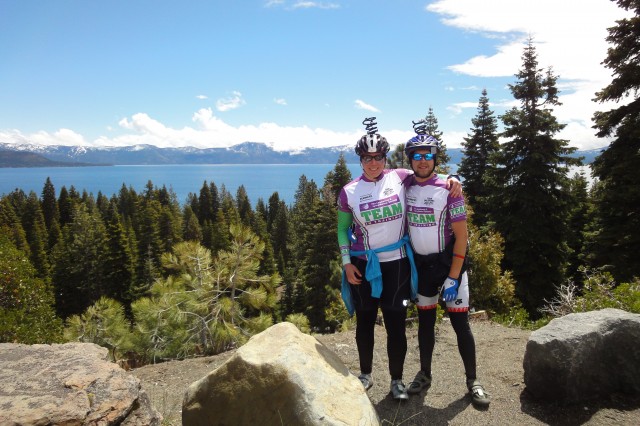 About the time we got to our lunch stop around 72 miles, you could see the rain approaching from across the lake.  We quickly wolfed down the rest of our food and settled in to the cold rain, one pedal stroke at a time.  As the miles ticked by, we finally came to the biggest climb of the ride, Spooner.  We ascended about 1200 ft in about 8 miles.  On the one hand, Emerald Bay was more challenging as you climbed more steeply, but Spooner came up around the 85 mile mark…we were exhausted by this time.  Luckily, Spooner was dry when we got there, and I decided it was time to set my speed record for the ride.  On the descent, I pushed as hard as I could muster and topped out at 44.3 mph, nearly keeping up with traffic at 55 mph.  This exhilarating descent set the stage for the final 10 or so miles. All said and done, I burned just over 3500 calories and averaged 13.9 mph, climbing just about 4700 ft.  After 7:18 hrs in the saddle, and just over 9 hours on the course, we were exhausted, but overjoyed to have finished.  All through the ride, when they were visible, we say incredible mountain vistas capped with fresh snow.  After all, it was called Americas Most Beautiful Bike Ride for a reason.  Now that I've completed my first century ride, I hope that it is not the last.  So far, I have nearly 1000 miles on my bikes (road and MTB) for the year, also a record for me.  Perhaps by the end of December I will be closer to 1500 miles.
As an added touch, it was snowing as we climbed the pass out of Lake Tahoe towards Sacramento. While nothing was sticking to the roads, I was glad to be in my trusty Subaru.  Now that this ride is finished, I have my eyes set on a 70.3 Half-Ironman.  I have a lot of work ahead of me, mostly in the running department, but I think I can do it!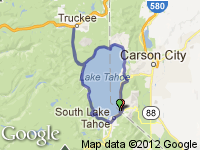 TNT Tahoe Century Ride
Road Cycling for 07:18:33
100.88 mi @ 13.8 mph